Haiyi Hot Selling DTF Film Products
DTF PET Film Types
Transfer PET film is also called DTF PET film. is characterised by its high tensile strength, good thermal stability, low heat shrinkage, flat and clean exterior, good peelability and can be reused many times.
In order to meet customer and market demand, Haiyi focus on research and development and provide different types of products, for rolls and sheets, and cold-peel for your choice.
Hot Peel
Hot peel refers to products that can be torn off after hot pressing, without waiting for a period of time.
Cold Peel
Cold peel refers to the product that needs to be cooled for a period of time after hot pressing and can be peeled after cooling.
Hot/Cold Peel
Hot/Cold Peel means that the products can hot peel and cold peel. It is welcomed by many customers.
Why Choose Haiyi DTF Film
---
Haiyi Material is a professional manufacturer of DTF Film materials, located in the Pearl River area of China, Foshan, Guangdong, where the manufacturing industry is the most developed. With more than 10 years of professional skills in the coating industry, we will become one of the top PET DTF Film manufacturers in China, providing our customers with high-quality industrial consumables.
The company has independent property rights factory buildings, multiple high-precision coating lines and slitting machines, a highly educated R&D team and R&D building, and a strong after-sales technical team. In recent years, we have added advanced machinery and equipment to improve technology and production efficiency, and the production capacity can reach 60,000 square meters per day.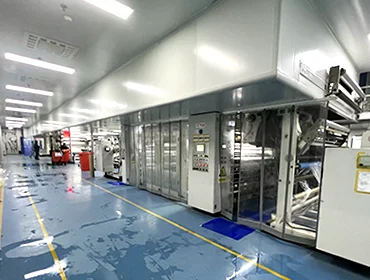 Advanced Equipment
Haiyi product most advancedequipment in industry
In addition to having advanced production equipment, we also have our own productiontechnology and process.
We are constantly upgrading our adhesive films and adapting our coating formulations to meet the needs of the market and our customers and to obtain the most stable material ratios.
Strict Quality Inspection
Strict Quality Control & Testing
Haiyi has a professional quality control team. In order to keep the quality stable from sample to Bulk, We choose 100% inspection in every Production process. Some common tests include:
>Glossy testing
>Transmittance testing
>Roughness testing
>Elongation testing
>Hazy testing
>Friction testingHazy testing
>Tensile strength testing
>Heat shrinkage testing
Patent and Certification
Fully Qualified Enterprise
Haiyi is one of the newest high-tech companies in China, with an R&D team that has developed over 20 industry patents over the past 10 years. We bring innovation, improved material design and greater efficiency to the field. The R&D team customises thermal transfer films to help customers reduce costs and improve process quality. Heat transfer films are delivered quickly and with reliable and consistent quality.
Application Field Of DTF Film
DTF Film are widely used in many felds. In clothing, shoes and hats, home decoration, etc., we have various popular designs for the market to meet different customer requirements.
Fashion Garment Transfer Film
Sports Equipment Transfer Film
Packaging Material Transfer Film
Heat Transfer Film Manufacturer
1. There is a problem with the quality of DTF film. Under the same consumables and the same production environment, if you change to another DTF film and the powder sticking problem is improved, one possibility is that the DTF film is of poor quality and unqualified; the other...
---
Contact us for a quote for your project, our experts will contact you as soon as possible.
Room 802,Huakang Building 5,Technology Road 5,No.1,Xingtan Industrial Park,Xingtan Town,Shunde District, Foshan, China